The million (well, thousand) dollar question. The question almost every prospective student will ask when they visit your college…is your Admissions team prepared to answer it?
Even at schools with access to professionally printed tuition sheets and expertly designed collateral to hand out, our covert evaluators continue to find representatives who have a hard time providing the information. Deferring the conversation to another department for the answer isn't bad, unless the introduction to the other department doesn't happen. Who wants to hear about how fantastic and valuable a place is without also knowing how much it costs to be a part of it?
Creed told me that he would give me a tuition sheet since he was in Admissions and not Financial Aid. He then wrapped up the interview and handed me a folder. While walking out of the building, I opened the folder to look at the information, but there was nothing inside it.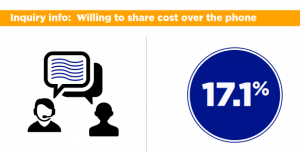 Speaking of folders…some of the school materials we receive are underwhelming (at best) – a sticky note with tuition written on it, a sheet of paper with class times and start dates written in orange marker, or a copy of a copy of a printout from 2011. We also crack open stylish school folders only to find documents so poorly printed we get caught squinting to try to read the numbers. Prospective students are more than likely visiting other schools. Why not provide a nice shiny tuition sheet to stand out from the competition AND help them make an enrollment decision?
Getting an education can be an expensive endeavor! Representatives sometimes try to find clever ways to discuss program cost without causing sticker shock. We at Nn encourage a full review of tuition, fees, and what's included in those amounts, followed by a solutions-oriented approach to helping the student look at their options for paying for college. Every effort should be made to make sure prospective students never leave a school feeling disheartened or thinking that they might not be able to afford an education.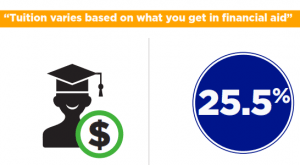 Tossing out a number and hoping it doesn't make them flee, shed tears, laugh, or lose consciousness is a less than ideal approach.
Michael said, "The cost of the program is $92,000. Please don't pass out on me."
Other representatives opt for more questionable responses to our tuition queries. Our heads spin when we read these! When representatives make inappropriate jokes, our evaluators tell us that it makes them wonder how seriously the school would take them as students – will real students be thinking the same thing?
Meredith looked me in the eyes for an uncomfortable few seconds, and then said, "Unless you have a sugar daddy, the $350 to $400 monthly payment is another expense you will have while you're here."
We always encourage representatives to connect with prospective students and build rapport! We've seen in previous Tales from the Trail that laid-back conduct can easily be misunderstood or cross the line, no matter how good the intentions were. Even the most relaxed students expect professional behavior and correct information when they visit an institute of higher learning. A simple question deserves a straightforward answer. Anything less than a complete review of the program cost can be perceived as convoluted, confusing, or potentially deceptive. Every program has a cost and every student will want to know. Be ready to answer that question with pride (and a nice tuition sheet, we hope)!
What's the most interesting tuition conversation you've had or overheard? The worst tuition sheet you've ever seen? Tell us about it on our Facebook!