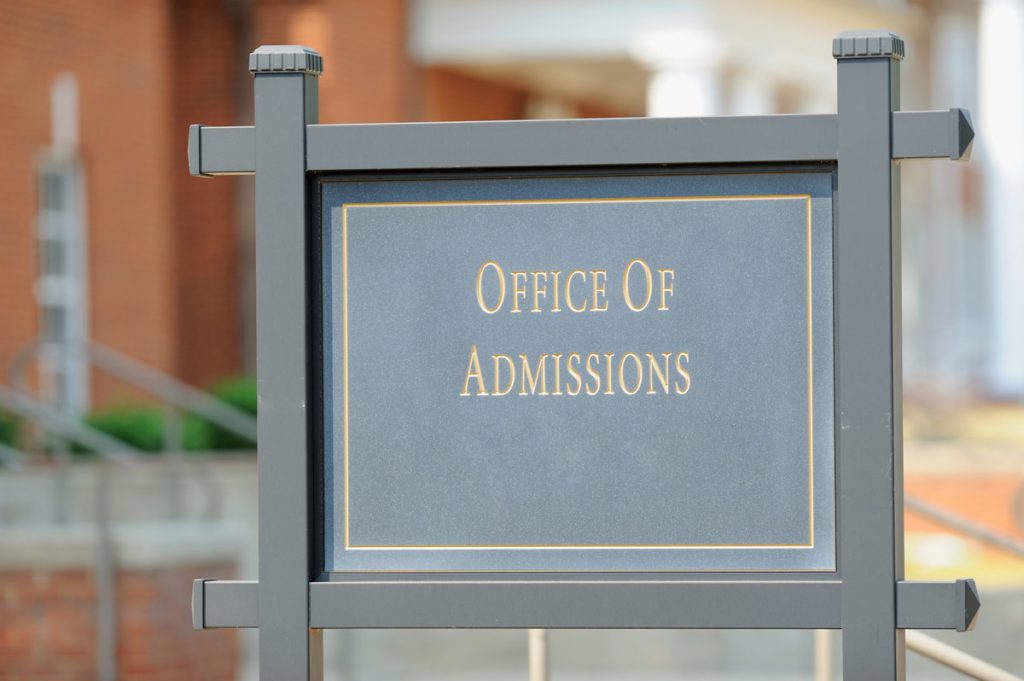 We've noticed along the trail that a variety of tactics are used to encourage prospective students to enroll. We go into every interview expecting representatives to be focused on building relationships, answering questions, and highlighting the great things the school has to offer. Most of the time, that's exactly what happens! We'll have a great interview, full of valuable information and genuine rapport-building, so the conversation more often than not turns to talking about how to apply or enroll.
We love to see representatives talk through the enrollment process so it's clear, but it's sometimes presented as a long process requiring applications, approvals, reviews, verdicts, and recommendations… oh my! What is the intended value-building message here? The message received is that enrollment is limited; not everyone who wants to attend is accepted. "You need my approval if you want to get in."
Roland told me that after he looked at my application, it would be submitted to his manager. He said that his manager would then send the application to an approval board, which would then send it to "the board" for a final verdict.
—
Manny asked if I was ready to complete the enrollment application, and I told him I wasn't ready. He questioned whether I was really serious about bettering my situation. He claimed that he needed me to complete the application so that he could take it to his director for approval. He also added that it would then take three to four hours to get back to me if I was approved.
We train our trail travelers on how to handle any kind of enrollment discussion, but pressure can still make for an unpleasant exchange. Being asked multiple times to enroll or move forward can get quite awkward and immediately dissolve any previously built rapport. Evaluators have reported feeling uncomfortable, frustrated, manipulated, and rushed after these kinds of conversations, both in person and on the phone.
Giles navigated to the enrollment page on the presentation. I told him I couldn't complete the application at the moment. He said he wanted to get my information to his director. He said I would have an opportunity to meet with Financial Aid and if the numbers weren't affordable, I would be able to cancel the application. He stayed on the line with me to get me through the first page because he wanted to make sure I found his name (to include on my application).
We've had representatives completely lose their cool when we decline offers to complete enrollment applications. These same representatives have tended to be less forthcoming with requested school/program information, instead focusing on moving the process along. When there is a free and open discussion of the school and its programs, students will take the next step when they feel ready and confident in their decision.
We wonder how often these tactics are successful and how many of those students feel satisfied with their choice after being hurried to make a decision…
Trevor gave me curt replies to my questions about tuition and financial aid. When I explained that I was not ready to enroll, he became slightly aggressive, stating that my position did not make sense. After I told him I needed to speak to my uncle about moving forward with the process, he said that I'd already told him my uncle supported my decision to go to school. He told me to have a wonderful day and hung up the phone without waiting for me to respond or offering a way to contact him.
Choosing a school is one of the most important decisions in a student's life. As such, it seems pretty reasonable to allow them the time and space to consider the information and pick the school and program that's right for them.  When students make careful and thoughtful choices, everyone wins! It can impact student and graduate performance data overall, and students are more likely to be engaged in the process of finding a job right out of school if they're pursuing the path they chose on their own.
Imagine yourself sitting in a room with Sidney, your admissions advisor, with whom you've just spent 45 minutes to an hour, and have shared information about your situation and experiences. The interview is coming to a close, so the conversation turns to the application.
Sidney said if I didn't apply the same day she probably wouldn't see me again. She said that she never had a student who did not want to apply the same day come back at a later date and apply. She said she would pack up the information and send me home. Sidney told me to tell her one good reason that I couldn't apply the same day. I told her I just didn't feel comfortable applying. She told me if I did call her back that I would be the first student to return to enroll. She said she wouldn't call me and that if I needed to apply, I would need to call her. She showed me to the front door.
Most adult students lead lives that are already full with work and familial responsibilities. We always encourage admissions representatives to help students overcome obstacles and brainstorm solutions. Unfortunately, we've run into some less than empathetic representatives recently:
I told Shawna that I needed to speak with my husband and employer about scheduling and she said, "No, this is about you, not them." I then said, "I need them to support me or going back to school won't be successful." Her reply was, "I am here to support you. You don't need them to support you."
—
Rick pressured me to enroll for the next six minutes despite my saying no and needing to discuss it with my husband. He told me I wouldn't be going against my husband by completing the application because he needed to send it to his director for approval. Rick said he was busy and had a busy calendar. He felt I was a fit for the program and wanted to know how serious I was. He said the director may or may not approve me, so this was just the first step.
What's the best way to disengage and potentially lose a prospective student? We're not sure, but pushing them to do something when they've said NO is certainly one method. Intimidating or misleading students to encourage prompt enrollment before they're ready helps no one. We here at Nn know that most representatives do their best to make sure students are comfortable before moving ahead in the process. If you'd like to know how your team talks to visitors about applying, give us a call or shoot us a message. We'd be happy to see you on the trail!
How do you encourage a visitor to apply or enroll? What tactics do you use to make the process exciting and easy for everyone involved? Do you know about our new Admission Training Program? Let us know on our Facebook!